Stanly County 4-Her Wins National Trip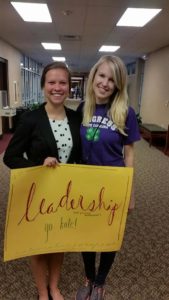 On Monday, July 31st, Kathryn VanHorn represented Stanly County by competing in AIRE at North Carolina 4-H Congress.
AIRE — Application, Interview, Resume and Essay competition — is a four-step process by which youth are chosen to attend national 4-H events including National Congress, National Conference and International Leadership Conference. Kate was evaluated based on her abilities and experiences in leadership and personal development.
Kate is one of 14 North Carolina delegates who will attend 4-H National Congress in November.
Kathryn VanHorn (left)
Kacie Hatley; Stanly County 4-H Agent (right)