National Youth Science Day Success!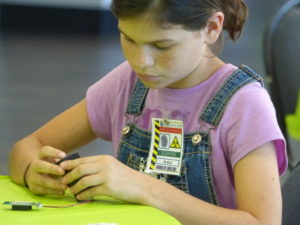 On Wednesday, October 4th, several youth from across Stanly County came together to address an issue facing our community–obesity. The group talked about two ways to tackle obesity: eating better and moving more. Apple Watches and FitBits are two commonly purchased health monitors which track your heart rate and step count. In this experiment, youth were challenged to design a health monitor that collected the same data.
Each group explored the components of their kit which included a power supply, microprocessor, tilt sensor, pulse oximeter, jumper wires, and alligator clips. Firstly, the groups had to turn on the power supply and microprocessor. Participants were able to connect to their monitor as a wifi setting with their mobile devices. Once they connected the tilt sensor and pulse oximeter to the microprocessor, youth were able to track their heart rate and step count on their mobile devices. The group took turns tracking each individual's resting heart rate.
Once the activity was completed, the group made personal pan pizzas and had a drawing for some cool prizes. We enjoyed National Youth Science Day and are looking forward to next year's event!