Cooking for Crowds – a Program for Churches, Fundraisers, & Events!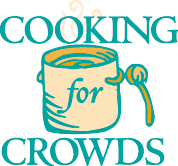 Are you serving food at a church potluck, annual fundraiser, or community event? Do you know if this food has been prepared and handled safely? While restaurants, schools, and senior meal sites are mandated to have updated food safety education in their facilities, non-profit organizations hosting temporary events which serve food are not required to do so.
The Family & Consumer Sciences Agent with N.C. Cooperative Extension of Stanly County is offering the Cooking for Crowds Program. "Cooking for Crowds" is a program designed for non-profit groups that prepare food for their organization or for the public as part of food fundraisers. By taking this 3-hour course, you will learn to prevent the conditions during planning, purchasing, storage, preparation and service that may lead to a foodborne illness outbreak at your next food fundraiser.
Individual participants will receive handouts, one digital thermometer, and a certificate. After the first registration fee of $25 which includes a thermometer, organizations may add as many participants as needed for an additional $5 each. Participants paying $5 will not receive a thermometer. There must be a minimum of 10 participants to make a class.
To learn more about how your organization can register, contact N.C. Cooperative Extension of Stanly County Family & Consumer Sciences Agent, Hayley Napier at 704-983-3987 or hayley_napier@ncsu.edu.