A Canning Workshop Success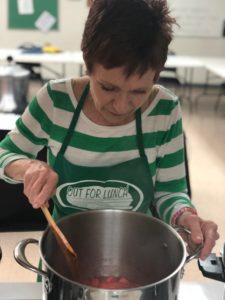 "I am so excited to be here learning how to can safely", shared Jenna Miller (pictured above) upon her arrival to the canning workshop provided by N.C. Cooperative Extension ofStanly County. N.C. Cooperative Extension professionals Hayley Cowell and Cortney Allen provided fun, hands-on learning opportunities to the community on August 28 and 30.
Participants learned by doing as they canned their own peaches using a water-bath canner and tomatoes using a pressure canner. Each class also shared how to use their home-canned goods to make a quick, healthy recipe. They even tossed in a bit of physical activity using a blender bike to make a smoothie. After taking both workshops, participants shared that they would now use tested and trusted recipes when canning at home and that they now felt confident in their knowledge of how to safely can a variety of foods.
If you have any questions or would like to share your interest in home food preservation or nutrition programming, contact FCS Agent, Hayley Cowell at hayley_napier@ncsu.edu or 704-983-3987.