Morning's Made Easy…er
Find this article at:
go.ncsu.edu/readext?621719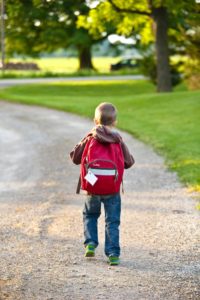 "It was 5 minutes before we had to leave for school. There stood the kids, calmly waiting by the door. They had fed themselves and were neatly dressed. They had even double-checked to make sure all of their homework was in their backpacks. That is how our mornings typically go," said no parent ever.
Establishing a morning routine is difficult enough without adding in the stress of a new school year. To a certain extent, we must embrace the messy spontaneity that is schools mornings; however, there are a few things your family can do to cut down on the morning madness.
Prepare the night before.

You would be surprised how just 10 minutes of prep the night before can make mornings tremendously easier. Before bedtime, have your child put their homework in their book bag and lay out their clothes for the next morning. If your child takes their lunch to school, it is best to pack it the night before.

Establish bed-times and wake-up times. According to the National Sleep Foundation, children ages 6 to 13 years of age need between 9 and 11 hours of sleep each night. By waking up unrested, your child is more likely to experience mood swings and behavioral problems. To ensure that your child has a restful sleep, avoid caffeine and electronic devices close to bedtime.
Eat a healthy breakfast. Research shows that students who eat breakfast before school have increased test scores, improved attendance, and reduced tardiness. By eating a breakfast that includes fruit, milk, whole grains, and meat (or another protein), your child will have the nutrients they need to learn until lunchtime.
Use charts and checklists. Use charts and checklists.

Let your child take ownership of their morning routine by checking-off their progress. There are lots of free morning routine charts online. If your child is not yet proficient in reading, there are morning routine charts with pictures instead of text.

Avoid toys and television.

For most youth, it is hard to find the self-discipline to put the toys away or know when to turn off the television. Pulling a child away from their favorite distraction to take them to school could cause them to see school in a negative light. Some might even see it as a punishment. Chores, reading, and light exercise are all good ways for kids to pass a few extra minutes before school.

Factor in a few minutes for surprises. 

Once again, being a part of a family often means expecting the unexpected. Make sure to budget a few extra minutes to locate that missing shoe, stop to get gas, or change out of a stained shirt.

Show them you care. 

Young children learn through imitation. Therefore, wake up wearing the attitude that you would like your child to have. Provide them with encouragement and words of affirmation. Saying "I love you", wishing them a good day, and giving a heart-felt hug might be just what they need to power through the school day.
The most important thing to remember is to give yourself grace. The mornings can be tough. As the year progresses and you establish a routine, it will get easier. 
We are wishing all Stanly County students an exciting and successful school year!